Restaurante de Chonchos
-Freshly made meals using all locally caught seafood* and market produce (all subject to availability)
*additional charges may apply depending on the market price, especially shrimp.
PRICE PER COUPLE PER MEAL:
Breakfast-500 pesos ($25.00 US)
Lunch-700 pesos ($35.00 US)
Dinner-1000 pesos ($50.00 US)
ALL 3 MEALS Per Couple Per Day- 2200.00 pesos or $110.00 US
-Please alert the chef to any dietary restrictions* and/or allergies.
IF POSSIBLE,PLEASE SUBMIT PAYMENT FOR MEALS WHEN MAKING RESERVATION SO THAT THE COOK CAN PLAN AHEAD.
-In addition to full meals, lighter choices and fresh made snacks are also available(serves 2)-
-Chips & salsa Mexicana-$200 pesos ($10.US)
-Homemade guacamole & chips- 280 pesos ($14. US)
-Black bean dip with fresh tortillas-400 pesos ($20.00 US)
Cerveza/Coronita(beer)-25. pesos each
(The above costs do not include any tips)
NOTE: THIS MENU IS JUST A GUIDE, ALL DISHES MAY NOT ALWAYS BE AVAILABLE AT ALL TIMES,
PLEASE CHECK WITH THE CHEF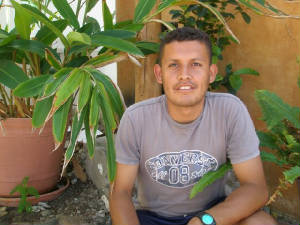 Our Chef Alphonso